What's in it? Quick Summary
I Will Teach You To Be Rich Summary by Ramit Sethi discusses how following the financial experts can confuse you and create anxiety. The author also shares some tricks to make the most of your credit cards without getting into debt. 
Sale
Last update on 2023-06-13 / Affiliate links / Images from Amazon
You can buy the book in your preferable format below.
Get the Audiobook: Listen free with Audible Trial
Get the Paperback version: View price on Amazon
Ramit Sethi is the author of the book "I Will Teach You To Be Rich", which aims to help people take control of their finances and achieve financial success.
He is a personal finance expert and speaker who has been featured in various media outlets, including The New York Times, Forbes, and CNBC.
In addition to writing books and giving talks, he also offers courses and coaching on personal finance and entrepreneurship.
Sethi's approach to personal finance emphasizes the importance of taking action and being intentional with your money. He encourages people to focus on the things that matter most to them, while still being mindful of their spending and saving habits.
Overall, Ramit Sethi has become a well-known figure in the personal finance world, and his book "I Will Teach You To Be Rich" has helped countless people improve their financial situations.
I Will Teach You To Be Rich Summary (PDF)
When it comes to money, there are many videos on YouTube, but still, many people struggle with money.
No advice provided by the finance gurus seems to work.
Instead, it confuses an average person and creates anxiety.
In this book summary, I'll share the eight best lessons from the book "I Will Teach You To Be Rich," written by Ramit Sethi, which will help you take control of your money and feel confident.
Alrighty, so without further ado, let's dive right in.
Best Tools for Bibliophiles
Lesson 1: Find Your Reason For Seeking Wealth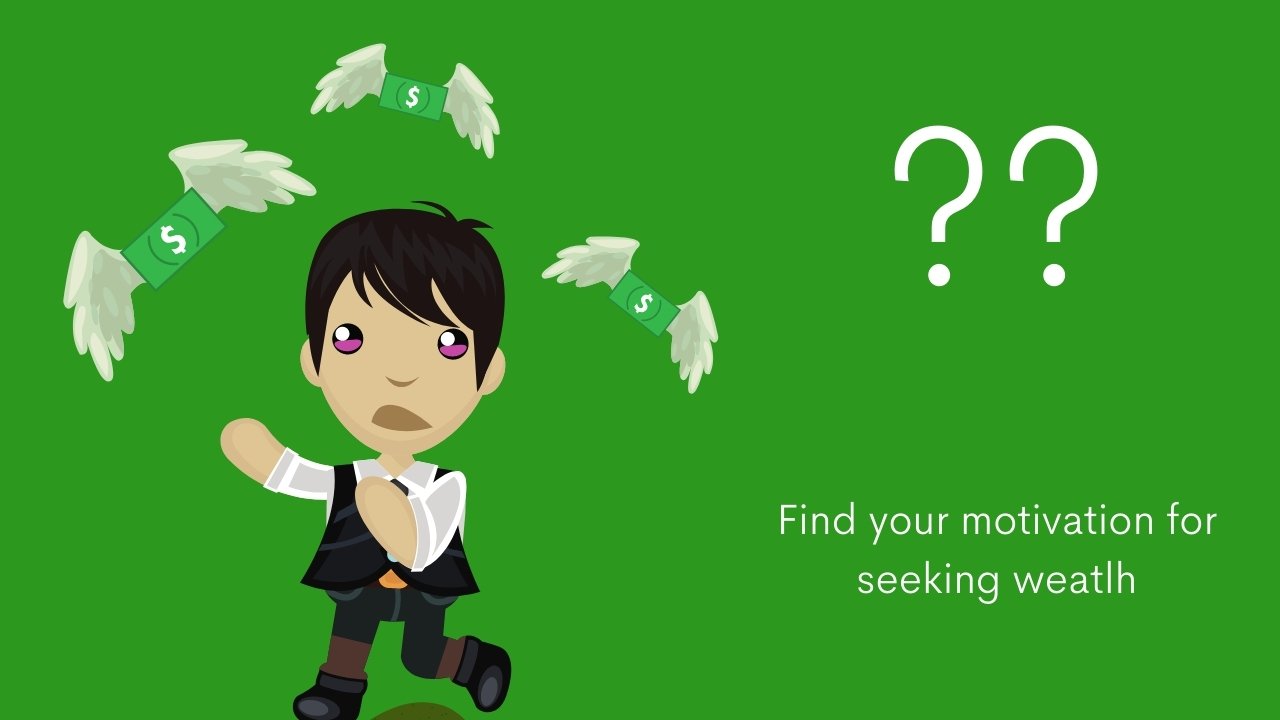 Everyone wants to be rich. 
But the question is:
Why do you want to be crazy rich?
To most people, the answer would be obvious:
 "I want to appear cool in front of my friends."
Or "I want to buy all the expensive stuff out there and learn what makes it so expensive."
Or "I deserve the best things in the world."
Or "I want to achieve more freedom in my life."
Knowing why you seek wealth keeps you on track. It also helps you avoid unnecessary expenses.
The author suggests that you spend extravagantly on all the things you love and cut down on useless things.
For example, if an online course teaches you fantastic stuff and can help you scale your business, go for it.
Don't waste any more time reading reviews and making comparisons for hours.
On the other hand, if you aren't using your Medium subscription and instead love watching Netflix, cancel that Medium subscription. 
Although, I'd suggest that you realize how your actions will affect you in the long term.
The point is:
If you're paying for something that you don't need, get rid of that.
Knowing your reasons behind seeking enormous wealth also makes things simple.
For instance, if you know that you need $5000 to invest in your business, you'll make sure that you achieve it at any cost.
Why? Because you've got a reason. You have a goal to achieve.
It's that simple.
It'll also affect your money spending habits and thus help you become wealthy faster.
Another reason for knowing your 'why' behind seeking wealth is that you don't just become rich to become rich. 
Let me explain.
Most people earn money to fulfill their basic needs.
But if you're aiming for a hefty bank balance, you aren't just earning to fulfill those basic requirements – you desire something more like status.
You must be clear about how that money you wish to earn so severely will help you improve your quality of life.
When you shift to this mindset and improve your quality of life overall, earning money becomes more manageable and meaningful.
This was the 'aha moment' for me in this book. I realized that everything we do in our lives serves this one purpose: to enrich the quality of our lives.
Find out why you want to be wealthy. 
Do you even need to become wealthy?
Is it worth pursuing that goal?
What is your motivation and why?
Lesson 2: The Important Thing Is To Start
Okay, let's admit: 
Studying books related to finance is super dull. 
My older self would prefer watching 'Death Note' Anime over reading finance books like this one.
The chapter where the author discussed credit cards bored me to death. I just wished it didn't exist. 
Anyway, the author said something that stuck with me:
He said: "You don't need to be an expert in finance to become rich." You have to learn a few basic concepts.
(Note that the author might have put the above line in different words. But the intent was the same.)
He meant that most people mindlessly dive into technical terms and waste their time. 
Not everyone needs to know everything about Finance. Isn't it awesome?
You don't need to watch those stock listings and panic when the graphs crash down or rise rapidly.
Most people never start learning about Finance because those weird terms scare the hell out of them.
The author recommends that you start by doing small things like being conscious about spending on essential items, choosing a reliable bank, etc.
Adopting this type of mindset helps you overcome the inertia which stops you from putting steps in the realm of Finance.
Even simple concepts are enough for a beginner to see a change in his wealth.
For example, saving 10% income every month for investing might help you in the long term.
You just have to take those first small steps.
You have to start your journey by keeping a few basic things in mind and instead enjoy your life and improve its quality.
Also, it's better to start early. Why? By starting early, you get an advantage over those who start late.
You can make mistakes when you're young as you have almost nothing to lose.
When you're young, you can play with little money and experiment.
Sadly, adults usually have so many things at stake that they can't afford to lose, which hurts a lot if they lose.
Also read: The automatic millionaire (summary)
Lesson 3: You Can't Become Wealthy Unless You Take Control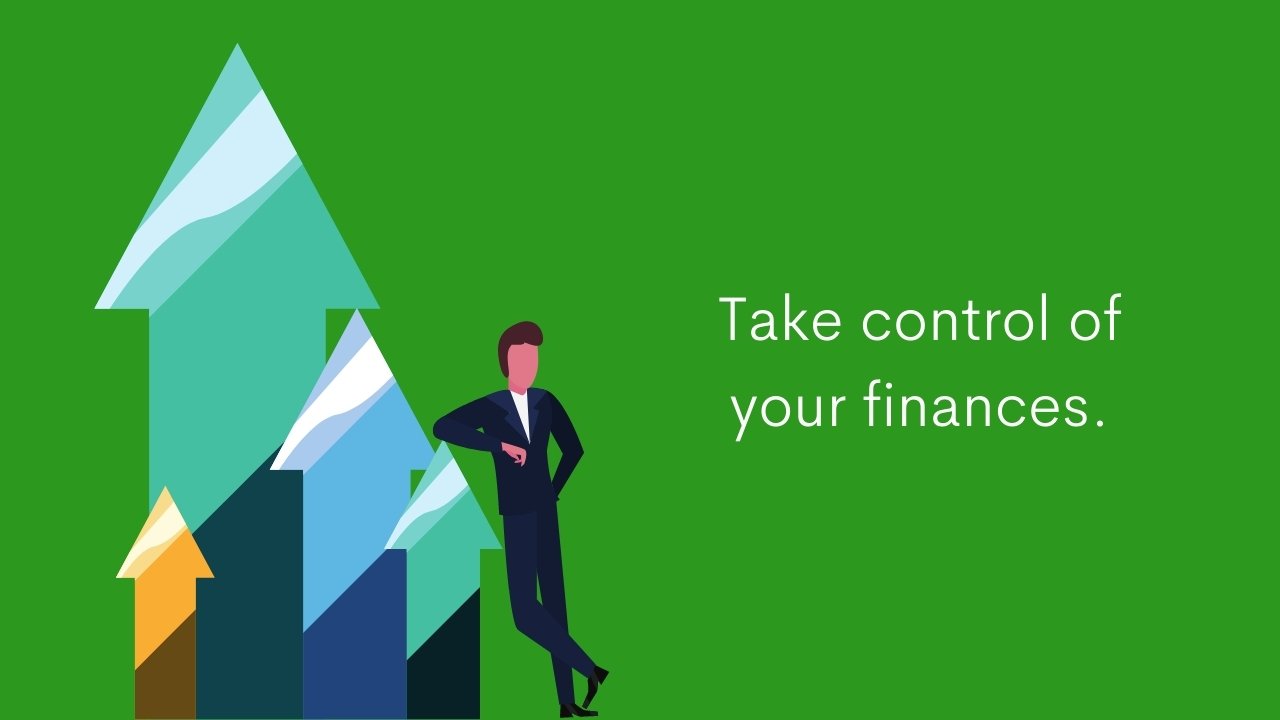 This is such a simple lesson, but most people never learn it.
Nobody gets rich without taking control of his finances. 
For example, if you don't consciously decide to get rid of that streaming subscription service, you'll keep spending money.
You know, often, you just need a little willpower to take that first action. 
If you don't control your spending, then others will rule it. And they won't necessarily care whether you get rich or not. 
It's boring to make budget plans. It's boring to track your expenses regularly. 
But the fun starts when you take control. 
After you take control of your money, you can choose to spend on things you love.
Also, the author makes this pretty clear right from the beginning that if you go by his 6-week program, you don't have to push yourself too hard and stop yourself from having fun.
You don't need to skip that steaming hot pizza you love so much that you would die if you deprived yourself of it.
You don't have to be too frugal. 
All you have to do is control how you spend, save, and invest. 
Lesson 4: Avoid Conventional Advice And Stick To The Basics
Sometimes, the conventional advice might not work for you.
I don't mean to say that the advice is wrong. It's just that not every piece of advice works for everyone.
For example, the author says that you should use credit cards smartly.
But most people are afraid of using them. We all have heard stories of people getting crushed under debts. 
Most banks earn a tremendous amount of money when people forget to pay their bills on time.
How? That happens because banks charge massive interest on credit cards if you miss your deadline.
Many people have been a victim of this horror. 
But the author says that you can become wealthy if you use your credit card wisely.
A lot of credit cards come with perks like discounts or cashback.
Credit cards may be helpful if you set your payment on automation and squeeze the hell out of those perks.
The author also suggests that you call your credit card rep if you ever miss the deadline and ask them to consider it a mistake.
It would be best to negotiate with your credit card rep to waive the penalty fee. 
The author also talks about how Indians are talented negotiators by birth.
Being an Indian, I could say that he is right.
Almost every Indian never misses an opportunity to negotiate. 
Still, I'd suggest that you don't blindly follow any advice.
I don't use credit cards and believe in frugal living.
But as I said earlier, not everything works for everyone.
Lesson 5: Have A "Conscious Spending Plan"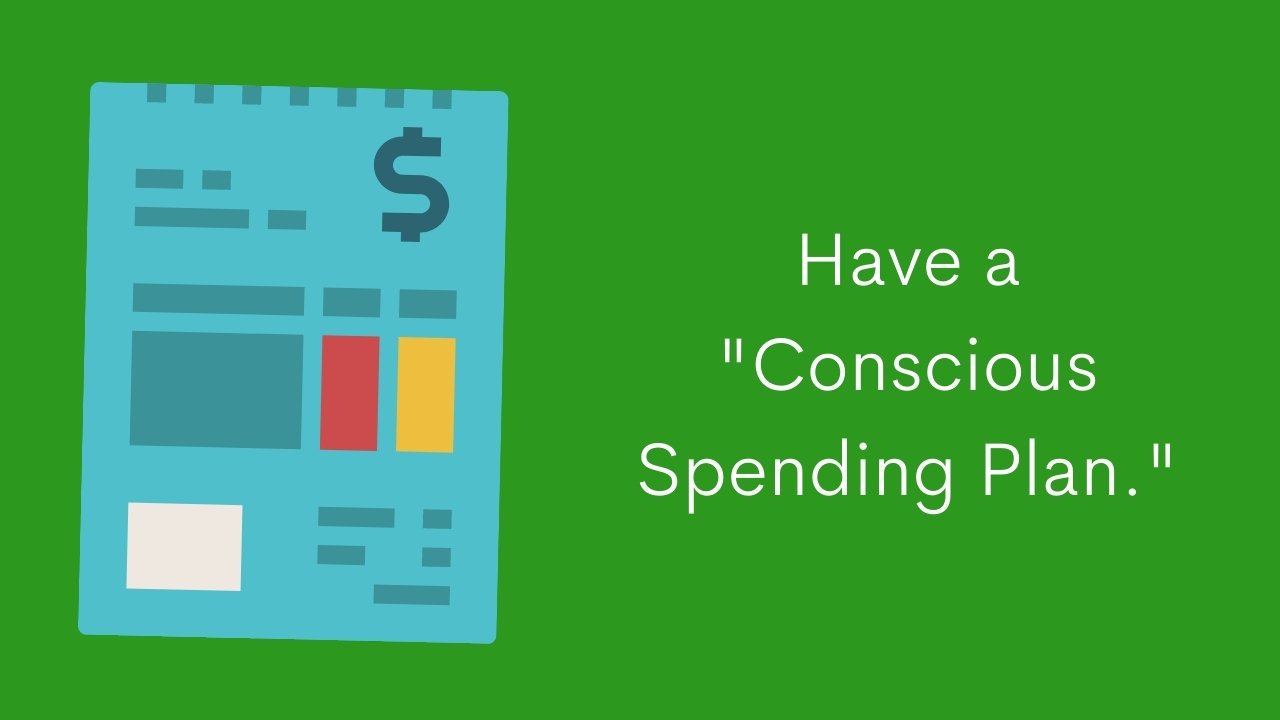 Conscious spending is the holy grail of Finance.
The author asks you to have a "conscious spending plan." So let's talk about how it works.
(Although the author said he wouldn't go into technicalities, he contradicted himself later in the book.😅)
As the name suggests, you have to be conscious of where you are spending your money. 
Most people spend money on silly things and wonder why they are not getting rich.
I'll call that plan CSP from now onwards.
It isn't as complicated as it sounds.
To learn CSP, you just have to understand three terms: 
Fixed Costs. As the name sounds, this includes fixed expenses like your electricity bill, food bill, etc.
Savings. This includes the money you save for the future. 
Investment. This includes the money you invest and expect returns in the future.
Remember, you aren't supposed to be an expert.
And neither am I.
Based on what I've read and experienced, a beginner must have an idea of these terms.
Fixed costs like food bills can't be ignored. In contrast, savings and investments help you in the future.
The Richest Man In Babylon says you should save some money for the future and invest in yourself.
Also, don't spend money extravagantly. And if you do, make sure that you're conscious of it.
Lesson 6: Get That Guilt Out Of Your Mind
Not having enough education about money sometimes doesn't give us enough perspective about money. 
And to overcome that, people learn from other sources like blogs, podcasts, and other such media.
If you look at the advice given by most finance gurus, you'll find that most of them make you feel guilty if you spend money on doing fun activities like watching Netflix or going on a vacation with your friends.
But as humans, we want to have fun and entertainment. It's a part of our lives. 
Just because some guru is telling you not to have fun in your life, you shouldn't stop having fun.
It's your right to have fun in life, isn't it?
So get that sense of guilt out of your mind. And go on that vacation that you always wished to go on. 
Some things are far more important than money itself.
It sounds weird when we talk about spending money on having fun, especially in a book that teaches us to become rich.
This lesson might sound weird at first. I found it strange, too, when the author talked about how he couldn't resist his Latte.
Remember that you don't have to live with any guilt.
Money is there to be earned.
Never feel guilty after spending money on things that give you joy.
Maybe you'll have fewer dollars left after enjoying that Goa vacation, but at the very least, you'll have satisfaction.
The catch is: Although you're allowed to have joy and fun in your life, you shouldn't become extravagant.
There is a thin line between having fun and wasting money.
Often people spend too much on having fun that they end up broke and get crushed under debts.
Avoid that! 
Lesson 7: Have Realistic Expectations About Money
Although the book says, "I will teach you to be rich," chances are you won't get rich immediately after reading this book.
Why? Simple, life doesn't work that way.
If it were that easy, I would have become a multi-millionaire by now, as I've read many books on Finance like:
I'm not saying you'll never become rich after implementing the author's tips. 
The point is:
You should set realistic expectations and goals.
For instance, let's say you spend $700 every month on self-education.
Now, you decide to cut down your expenses after reading or listening to a piece of financial advice. You cut down your expenditure on self-education by $500.
That's some excellent savings, right? No.
Why? Because that isn't practical.
You'll become knowledge deficient over time by cutting down your education budget.
Education helps you earn more.
There is a reason successful people still read and educate themselves continually.
That's why you must be realistic, focus on sustainable progress, and at the same time, manage your finances.
Lesson 8: Those So-Called Finance Gurus Don't Know The Future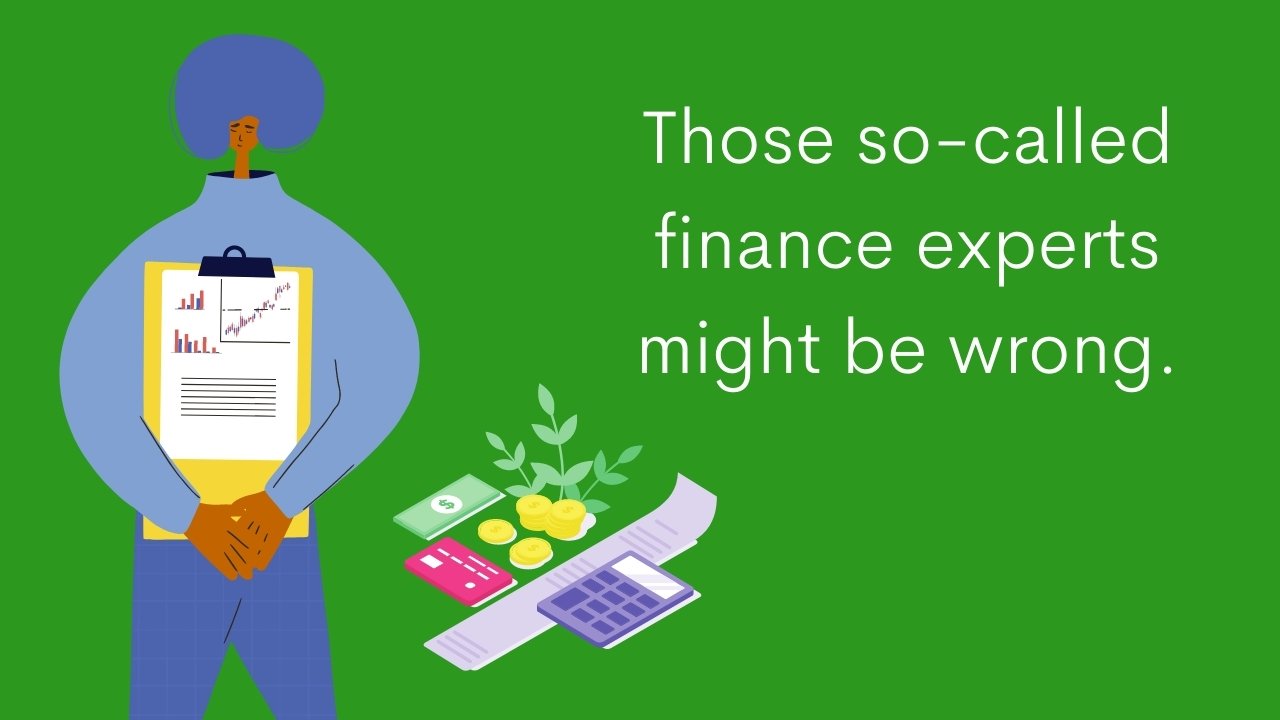 The author said this finally. He said you don't have to trust your so-called finance gurus. They can't predict the market.
Logically speaking, humans can't predict the future.
What those so-called experts or gurus do is that they make educated guesses.
Those educated guesses are based on various metrics.
But at the end of the day, they can't predict what the market will look like the next day.
And if they do, they are fooling you.
Don't trust them blindly! 
They will do you more harm if you are a beginner by creating confusion and stress. They speak like they know everything, but trust the author –they don't. 
They might impress you with fancy words, but trust the author; they aren't practical more often than not.
Nobody knows what Mr. Market will do in the future. 
Those gurus can't trick Mr. Market.
So don't get crazy over some prediction by an expert.
Try to use common sense.
Ask yourself if what they are telling is useful? Is it even practical? Can you apply it to your current scenario?
If not, then just ignore them. 
Focus on the basic things that the author has told in the book, like saving, spending, investing, and enjoying your life. 
Unload unnecessary stress.
Cut off all the bullsh*t that has been fed to you.
Be simple. 
Have fun!
The Key Takeaways From 'I Will Teach You To Be Rich By Ramit Sethi'
Let's recap the key points from this book:
Find your reason for seeking wealth.
The important thing is to start.
You can't become wealthy unless you take control of your expenses.
Avoid complicated advice by experts and stick to the basics.
Have a "conscious spending plan.
"Never feel guilty while spending on things you love.
Have realistic expectations about money.
Nobody can predict the market.
Extra lessons you can learn on the Blinkist non-fiction summary app:
Why you should choose the best banks.
Why you should automate your bills.
How to know how much you're spending and direct money where you want it to go.
Why blaming others for your financial problems doesn't help.
Click the link below to learn more about Blinkist.
This is my affiliate link. If you purchase the yearly premium, I will be compensated for it, which will help me create more book summaries for you. Thanks!
I Will Teach You To Be Rich Review
Sale
Last update on 2023-06-13 / Affiliate links / Images from Amazon
Pros
Concise and straightforward use of language.
A perfect book for newbies who are keen to learn finance.
Use of graphics.
Practical advice in a humorous way.
Less complicated than other books on finance.
Cons
Some advice is based on common sense.
Becomes a little technical in the middle.
Obsession with Latte. (Humor element overused)
Things I Like In This Book [Explained]
Concise and straightforward use of language.
The language used by the author is pretty simple and conversational. I didn't face any difficulties while reading the book. 
Introduction that hooks you.
I can't deny the fact the introduction part somehow hooked me. I didn't realize that I was reading the introduction; it felt like some core message. 
I guess this happened because the book is organized well. All the key messages are discussed at the beginning of the book. 
The author is evident right from the beginning and gives the reader a clear idea of what he should expect in the book.
The style of writing was informal. I enjoyed some of the jokes by the author.
At the beginning of each chapter, there are illustrations. Most books just throw text at your face. Seeing some graphics is always soothing to the eyes.
Practical advice in a funny way.
The advice given by the author is simple and practical. And the author delivers it perfectly in a funny way. You hardly get to see a book like this one on Finance.
The author has tried his best to avoid confusion by refraining from jargon. Usually, finance books are boring due to their complexity. You won't be facing that problem in this one.
Less complicated than other books on Finance.
Yes, this book is less complicated than other books on this subject—no doubt about that. 
I'd highly recommend this book to newbies. 
I wish I had read this earlier.
Things I Didn't Like In This Book [explained]
This isn't a problem. But the author seemed to be obsessed with playing that Latte joke. You might enjoy it, though. 
Becomes a little technical in the middle.
This book is one of the simplest on Finance, but I'd say that there are some chapters where things get complicated. There are terms like bonds, credit fees, etc.
Some advice is based on common sense.
Well, most advice in this book is pretty basic. You'll find yourself saying, "What's new in this? I already know it. Let me read more…."
Your Turn Now
If you enjoyed this summary, feel free to share it with those who might find this helpful. 
Now it's your turn. You tell me:
What was your 'aha moment' in this summary? 
Which lesson do you feel is the most practical of all?
And if you've read any other books on Finance, just comment below and enlighten us.
Want to consume more insightful, power-packed content like this in the future?